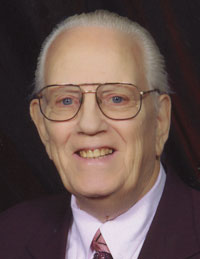 Rev. Frank Strine (right) passed away at 10:30 pm on Thursday, September 29, 2016, in the hospice wing of Huntington Parkview Hospital in Huntington, Ind. He was 91 years old. Rev. Strine attended Huntington University, was ordained in 1968, and pastored several different United Brethren churches–including congregations in Coldwater, Camden, and Montgomery, Michigan–before retiring in 1986.
Funeral time: 2 pm Saturday, October 8, 2016. Visitation one hour prior to the service.
Funeral location: Union Church, 3688 E 400 N., Huntington, IN 46750.
Frank Strine was born in Goshen, Ind., in 1925 and served in New Guinea and Australia during World War 2. He and Phyllis, married in 1951, had four children, all of whom graduated from Huntington University. Bruce and Devon became ordained United Brethren ministers and served UB churches in Michigan, Ohio, and Indiana (Bruce began pastoring in another denomination in the 1990s). Daughter Donalynn Strine was heavily involved in leading UB Bible quizzing. Another daughter, Maddie Grubbs, lives in Florida.
Memorial donations can be made out to the Strine family in care of Myers Funeral Home, 2901 Guilford St., Huntington, IN 46750.
Condolences can be sent to the following addresses:
Phyllis Strine
745 Church St
Huntington, IN 46750

Devon R. Strine
100 S Church St, PO Box 38
Kunkle, OH 43531

Donalynn Strine
745 Church St
Huntington, IN 46750