21 Sep

Turkey: Seven Churches Tour in Oct 2012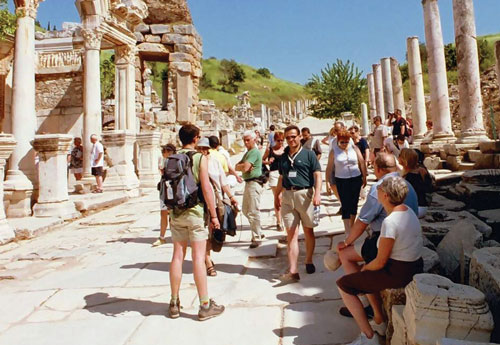 Jeff Bleijerveld, Director of Global Ministries
Global Ministries is working in partnership with IN Network's work in Turkey. As one of the initial steps in building this relationship, we have been invited to participate in an exclusive United Brethren tour of the Seven Churches of Revelation and other Biblical Sights.
Dr. Mark Fairchild (right), who chairs the Bible & Religion Department at Huntington University, will be our guide. He frequently conducts biblical study tours to Israel, Greece, and Turkey.  Also participating will be Rody Rodeheaver of IN Network, the organization with which we are partnering in Turkey.
Bishop Phil and Sandy Whipple will take part in the trip, as will I and my wife, Charlene. Bishop Whipple writes:
"I want to invite you to come and experience Turkey, a land that is rich in history. Many sites from the New Testament are found in this land. Come and join my wife and me as we see the same locations seen by the apostle Paul. I am excited to see the scriptures come alive in a new way on this trip. I am looking forward to learning from Dr. Mark Fairchild and sharing a wonderful experience with all of you."
Turkey is rapidly becoming the destination of choice for those wanting to experience the Biblical sites of the early Christian church. In many ways, the Christian church began in Turkey. The first non-Jewish Christian congregation was established at Antioch (Turkey), and it was there that believers were first called "Christians." The apostle Paul was born in Turkey and 80% of his missionary journeys occurred in Turkey. A large portion of the New Testament was written to congregations in Turkey.
The total cost is $3,595 per person. That includes air fare, lodging in 4-5 star hotels, breakfast and dinner daily, an air-conditioned motorcoach , entrance fees, taxes–pretty much everything you'll need. Early Bird pricing–a discount of $200–ends November 30. So check out the brochures and submit your application to ensure your place on this exciting trip.