20 Jan

The Incredible Bethel Band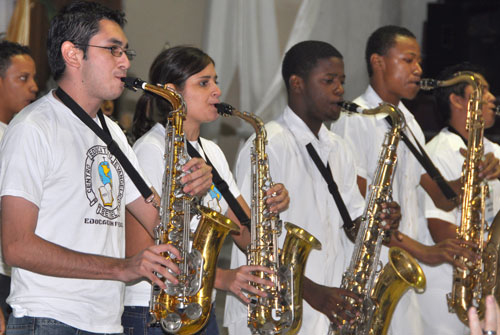 I've written about the Bethel Band a number of times over the years, going back to the 1980s, when missionary Archie Cameron led it. The band is part of the Bethel Institute, a large school operated by our Honduras Conference.
The Bethel Band has won many honors over the years. They won a competition as the best band in Central America.
But I had never heard the Bethel Band perform. I heard them practice one time, when I was in Honduras writing Tio Archie (one chapter is devoted to the Bethel Band). But I'd not seen them perform.
Until a couple weeks ago, when I was in Honduras for General Conference.
During the opening service on Sunday, January 10, the Bethel Band marched to the front of the gymnasium and played two numbers for us. They were extraordinary. Just blew me away.
I was sitting on the front row when they lined up, the saxophone players right in front of me. When the music started, the sax players began stepping toward me, and I thought they were going to run me over.
I knew they'd be good musically. I was not expecting all of the movement. I mean, they MOVED. I particularly enjoyed watching the three guys whirling around with their bass drums.
So much music, so much sound, so much movement, so many instruments. And the thing is–they were at half-strength. School was not in session at that time of year, but director David Raudales still managed to round up 50 of his 100 band members for a voluntary performance.
David is the son of Francisco Raudales, the former Honduras Conference superintendent. Francisco grew up playing in the band and later directed it, before passing the baton to his son.
David hopes to expand the band's size to 150 members. The limitation is instruments. They'll gladly take that trumpet or flute collecting dust in your attic. Why not send it to Global Ministries, so we can put it in the hands of a young Honduran? Give an opportunity to a kid who would just love to make music with Central America's premier band.
In September, the Bethel Band will travel to Guatemala for another big competition. About 50 Guatemalan bands will compete against each other, and the winner will then go against a dozen or so bands from other countries. Bethel has won this competition in the past. After what I heard that Sunday in La Ceiba, I can't imagine that they won't be winning it again in the years ahead.
Enjoy these photos of the Bethel Band performing at General Conference.