29 Dec

Use Direct Deposit to Support Missions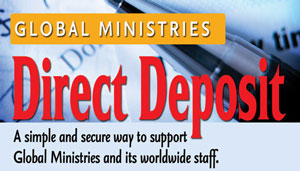 Now, you can use Direct Deposit to support the work of Global Ministries. Donations, including monthly support for individuals, can be transferred automatically from your bank account.
No checks to write. No stamps to find, or envelopes to address. You don't even need to remember that your support is due. It all happens automatically. And it's very secure.
A few advantages:
Convenient. Transfers occur automatically. You don't need to write checks, find the address, locate the previous receipt, fill out the envelope, pay for stamps, etc.
Timely. Your gift is transferred at the same time every month. You don't need to remember to make the gift.
Secure. Electronic fund transfers are among the most reliable, accurate, and secure methods of payment. There are no checks or receipts to be lost, stolen, or delayed in the mail. Every check you write contains written information about your bank account. That's not an issue with electronic transfers.
Good stewardship. Global Ministries doesn't need to spend time opening envelopes and processing gifts.