20 Dec

How Your Thank Offering Gifts are Being Used

Jeff Bleijerveld, Director of Global Ministries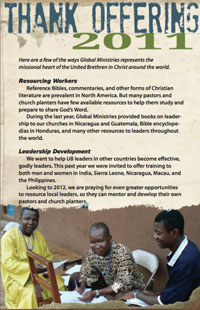 Here are some ways your Thank Offering gifts have already been used in the last few months.
Resourcing Workers
In India, we provided 30 church planters and pastors with Old Testament and New Testament Bible commentaries in the Telugu language. Most of these pastors have no Bible helps whatsoever.
Leadership Development
In India, we provided the same group of 30 church planters and pastors with a three-day training event that featured, an overview of 1 John and five characteristics of effective leaders.
In the Philippines, we provided $8000 to hold a leadership development event with 65 pastors and lay participants from our Philippine UB churches. During this time, we worked on their national documents, presented the history of the United Brethren denomination, taught the five characteristics of effective leaders, and gave a number of other practical messages related to evangelism and church planting.
Business as Mission
We provided $10,000 toward the support of a Business as Mission training team headed to Sierra Leone in January 2012. The team of eight will present a five-day workshop with two separate groups–first in Bo, then in Freetown. The participants will consist of church planters, pastors, and lay members seeking to develop alternative means by which to support ministry.
Additional Administrative Support
We hired Frank Y as an additional associate director, overseeing personnel and working to advance our Business as Mission efforts. Funding is being used to assist in his salary and travel budget.
Strengthening the Work of International Partners
Funds were used this past year to bring Behnan (last name withheld) from Turkey to the US National Conference in July 201. He offered a workshop at the conference and spoke in some of our churches. Behnan coaches Turkish church planters and workers throughout Turkey, which is less than 1% Evangelical.