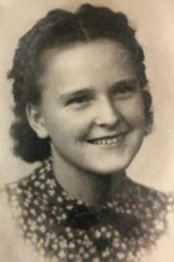 Norma R. Murphy, 97, passed away April 16, 2022, in Fairborn, Ohio. She was both a United Brethren pastor and pastor's wife for nearly 40 years in Michigan.
After graduating from high school in June 1942, Norma accepted a job constructing World War II amphibious landing craft at the Chris Craft boat plant in Cadillac, Mich. Two years later, she enrolled at Marion College in Marion, Ind. to study to become a teacher and athletic coach. There she met John Murphy, a World War II vet who was studying for the ministry. They were married in 1947.
After John graduated in 1951, they moved to Michigan for John's first pastoral assignment. She served alongside him in ministry for 30 years as pastor's wife, Sunday school teacher, youth leader, and young adult counselor. She and John had two sons.
John and Norma served the Pleasant View United Brethren church in rural Blanchard from 1966 until John's death in November 1981. Norma was then granted a Certificate of Ministry from the Michigan Conference of the Church of the United Brethren in Christ, and continued serving the Pleasant View congregation as pastor until she retired in June 1997. In addition to her pastoral duties, Norma worked as a dietician, store clerk, and cashier.
A private family graveside service will be held in Six Lakes, Mich.