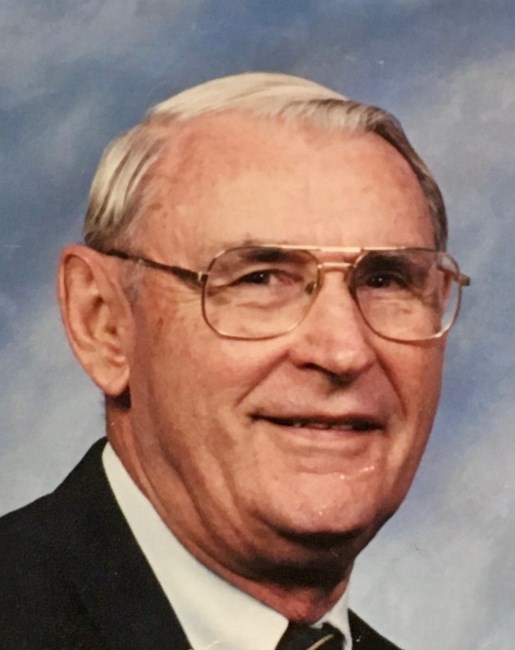 Rev. Dr. Harold R. Cherry, age 94, passed away on December 27, 2019, at his nursing home facility in Huntington, Indiana.
Visitation: 10:00 am – 12:00 pm Tuesday, December 31, 2019.
Funeral: 1:30 pm.
Location: Gorsline Runciman Funeral Home, East Chapel, 1730 East Grand River Avenue, East Lansing, MI 48912
Following the funeral service, burial will be beside his wife Ruby at Maple Hill Cemetery in Charlotte, Mich.
Dr. Cherry and his wife, Ruby, served nine churches over a 44-year period in central and western Michigan. His other leadership roles include:
Nine times elected as a delegate to General Conference.
Eight years on the Huntington University board of trustees.
54 years as recording secretary for Michigan Conference.
31 years as treasurer for Michigan Conference.
39 years on the conference council for Michigan Conference.
30 years on the board of directors for the Lane Dulcenia Memorial Home.
Many years as dual pastor and conference superintendent.
He also served on the Michigan Conference boards of Publications, Missions, and Preacher's Aid.
The full obituary can be read here.
Harold was born October 1, 1925, at Charlotte, Mich., the second son of Richard R. Cherry and Ruth L. (Snore) Cherry. He graduated from Charlotte High School in 1942 as class valedictorian. He went on to graduate twice from Huntington College (Huntington, Ind.) with a Bachelor of Arts Degree in 1945 and a Bachelor of Divinity degree in 1947.
He was converted to Christ at age 13 and immediately experienced the call to Christian ministry. He married his college sweetheart, Ruby M. Rawley, July 8, 1948, in Virginia. They celebrated 60 years of marriage in 2008. Harold and Ruby had four children. He lived most of his life in Michigan except for his last few years in Huntington, Ind.
He was preceded in death by his wife, Ruby, his parents, and his three brothers Maurice, Howard, and Herbert. He is survived by son Judge Paul (Kristi), daughter Dr. Constance, son Rev. R. Kevin (Sharon), son Ronald (Debbie), daughter-in-law Jeanette, 11 grandchildren, and several great grandchildren.
Having a life-long strong interest in education, he earned two Masters degrees from Calvin Theological Seminary and Western Michigan University and a Ph.D. from Michigan State University in Rhetoric and Public Address.
He devoted his life to fulltime Christian ministry. He was ordained a minister by the Michigan Conference of the United Brethren in Christ denomination in 1949.
He wrote published commentary for adult Sunday School books for 10 publications over 20 years. He edited a sections of the UB history book, Trials and Triumphs, and wrote a chapter in the UB theology book, Theological Perspectives.
As a committed Bible believer, Harold read his Bible daily from age 11 for 83 years to the time of his death. He enjoyed Christian music, gardening, and watching college football and basketball, especially the MSU games. He enjoyed traveling with his wife Ruby, twice to the Holy Land, and three other trips to Europe and the British Isles. Years ago Harold and Ruby established an endowed scholarship fund at Huntington University for aspiring ministerial students.
Suggested memorial contributions are to Lane Dulcenia Memorial Home or to Huntington University.