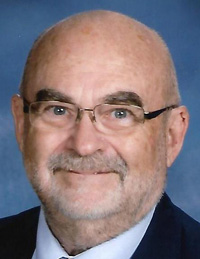 Rev. John Mark Rutledge, 78, passed away just before midnight on November 19, 2019, at Parkview Regional Hospital in Fort Wayne, Ind.
Viewing: 1-4 pm Sunday, November 24, 2019.
Memorial service: 4pm Sunday, November 24, 2019.
Location: Ketcham-Ripley Funeral Home in Rockford, Ohio.
Mark grew up in Van Wert, Ohio, and graduated from Huntington College and later St. Francis College in Fort Wayne, Ind., where he earned his Master's degree. He is survived by his wife, Kathleen, and their two sons. He and Kathleen were married October 19, 1963.
Mark worked in public education for many years–as a high school guidance counselor, principal, and superintendent. He also held various pastoral positions at United Brethren churches, going back to 1962: the Willshire and Zion churches in Willshire, Ohio; Otterbein (now New Horizons) in Rockford, Ohio; and Mt. Victory in Decatur, Ind. His most recent UB position was associate pastor of Praise Point church in Willshire. He was most recently pastor of Rockford Belle Community Church in Rockford.
Memorials may be directed to The Rockford Belle Community Church. You can view his online obituary here.