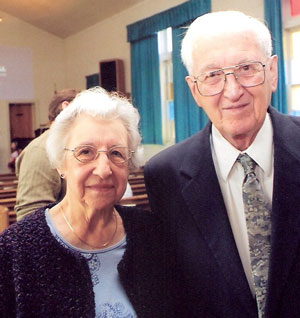 Robert Gibbs passed away Sunday night, October 18, 2009, at the age of 87. During World War 2, he served in China with the Signal Corp. He went on to become a United Brethren pastor, and was ordained in 1954. He served UB churches in Michigan, and also worked as an electrical engineer.
After retiring, Bob and his wife, Pauline, volunteered as United Brethren missionaries in Macau.
Arrangements:
Visitation: Wednesday, October 21, 2-4 and 6-8 p.m. at the Palmer Bush & Jensen Family Funeral Home, 6020 W. Saginaw Hwy, Lansing, Mich. 48917. Phone: 517-323-7890.
Funeral: 11 am. Thursday, October 22, at First United Brethren Church, 1330 E. Grand River, Lansing, Mich. Pastor Scott Hergert will officiate.
Burial: Interment with military honors will be held at 3 p.m. October 22 at Holy Corners Cemetery, Caledonia, Mich.
Memorials can be made to the First United Brethren Church of Lansing or to Global Ministries of the United Brethren Church.