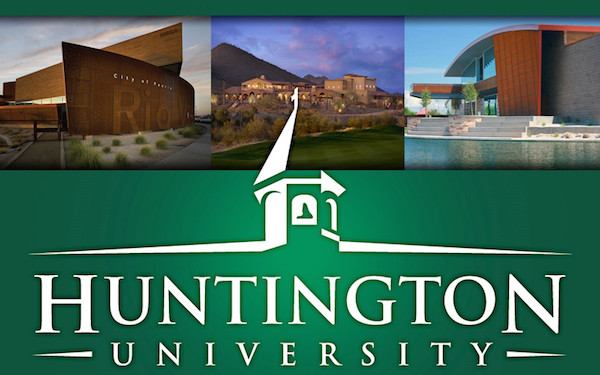 Dr. Sherilyn Emberton (right), President of Huntington University
On Tuesday evening, July 7, an Economic Development Agreement between Huntington University and the City of Peoria, Arizona, was approved by the Peoria City Council with a unanimous "Yes" vote. Jeff Berggren, HU representative, reported that Peoria Mayor Cathy Carlat smiled after announcing the vote and stated "Huntington University, welcome to Peoria!" The City of Peoria will provide up to $1.875 million dollars of financial support for the HU Digital Media Arts campus over the next three years.
It was almost three years ago, in August of 2012, that Dr. Ann McPherren and Jeff Berggren made the first trip out to Peoria on behalf of HU. Over that time, our relationships with the city have deepened and we have created connections with potential partners to assist us with a successful new campus location in Arizona.
We have also narrowed down our initial academic offerings to digital media arts, which immediately fills unmet demand in higher education in the state of Arizona. HU digital media arts will build on a strong training program within the Peoria Unified School District that will have over 1400 high school students involved in digital media this coming fall. This partnership creates a pipeline for students to study media from high school to college to a robust job market, all within the same community.
A school of DMA will establish HU as one of two universities (along with Trine) in a rapidly growing city (quickly approaching the size of Fort Wayne) that is part of the fifth largest metro area in the country (soon to be the fourth largest, trailing only New York, Los Angeles, and Chicago). They are very interested in other HU academic programs coming to Peoria as additional partnership opportunities present themselves.
There remain several key steps before we can officially commit to the Peoria expansion. HU has already been working on a number of these next steps necessary for our campus launch. The Economic Development Agreement was certainly a critical step.
Peoria will be a great city to serve as we extend our mission to impact our world for Christ 2,000 miles to the Southwest.