On Tuesday morning, February 10, tragedy struck the United Brethren pastoral family at the Brooklyn Park UB church in Baltimore, Maryland. Senior pastor Samuel Sinnah lost his wife and 17-year-old son in an early-morning fire at the parsonage. A neighbor who tried to help also perished.
Fire broke out at the parsonage around 2:40 on Tuesday morning. The parsonage is located across the street from the Brooklyn Park church.
According to local press reports, when firefighters arrived, they could see smoke and flames coming from the home. Firefighters pulled three persons from the burning house, all of whom were unconscious. They were taken to local hospitals, where all three were pronounced dead. They are:
Mrs. Lettitia Sinnah, 39, wife of Pastor Samuel Sinnah.
Sundima Sinnah, 17, a son.
Christopher Rickman, 45, a neighbor.
According to fire officials, Rev. and Mrs. Sinnah, along with a 20-year-old son, Joseph, made it out of the house alive. However, Lettitia re-entered the house to find Sundima, and Rickman ran in after her.
"I heard the reverend say my family's in the house and I didn't see Chris. He went right in there and went upstairs," said Rose Rickman, Chris's mother.
Rickman's father, Jack, entered the house about 90 seconds after his son. However, partway up the stairs he had to stop and back out, because the thick smoke made it impossible for him to breathe.
Mrs. Sinnah was reportedly last seen in an upstairs bedroom. When firefighters retrieved the three persons, they were reported as being in "full cardiac arrest.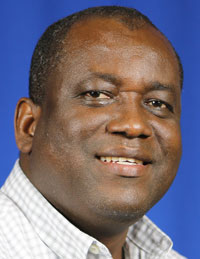 Rev. Samuel Sinnah (right) was appointed senior pastor of Brooklyn Park effective April 30, 2014. That's when his family moved into the parsonage. He grew up in a Christian family in the Kailuhun district of Sierra Leone, and was baptized by his father. He and his wife, a teacher, were married in 1994. At some point, they emigrated from Sierra Leone to the United States.
Sundima, known as "Sunny" by his high school classmates, was described as an outgoing, "incredibly popular" boy who played the piano and organ. "Every Sunday I'd go up to him after offering and say 'I need my hug,'" said Linda Busker, whose husband, Michael, is the associate pastor at Brooklyn Park.
Tuesday night, friends and classmates held a vigil for Sunny at the high school. "No matter what happened, he was smiling and he always made you smile if you were sad," said one friend. "Regardless of any situation, he was always happy and he would always pray with you or pray for you if you needed it," said another.
Fire officials initially concluded that the fire started in Joseph's back bedroom. Linda Busker told reporters that Joseph was studying for a college course late that night when a lamp fell onto his bed, broke, and started a fire. After failing to put out the fire, Joseph called 911 and escaped the home with his parents. A total of 55 firefighters spent about an hour getting the fire under control. A fire department spokesperson said the home was damaged "significantly, if not destroyed."
On Wednesday night, February 11, about 200 people attended a service at Brooklyn Park to remember the fire victims. Rev. Sinnah spoke about his wife and Sundima. Coworkers of Lettitia at the Glen Burnie Health and Rehabilitation Center spoke lovingly of her. High school classmates recalled Sundima with great fondness.
Bishop Phil Whipple was able to speak by phone with Rev. Sinnah on Tuesday afternoon. The bishop flew to Pennsylvania on Wednesday for previously-scheduled meetings. He plans to preach this Sunday, February 15, at Brooklyn Park and to minister as he can to Rev. Sinnah and his remaining son.